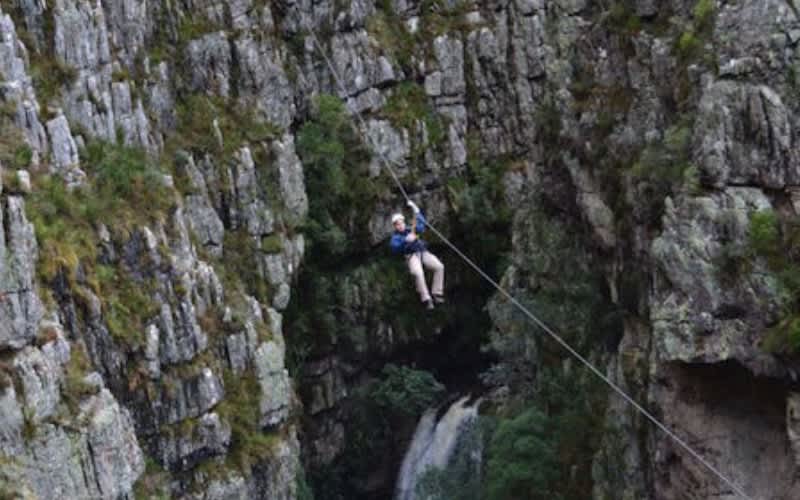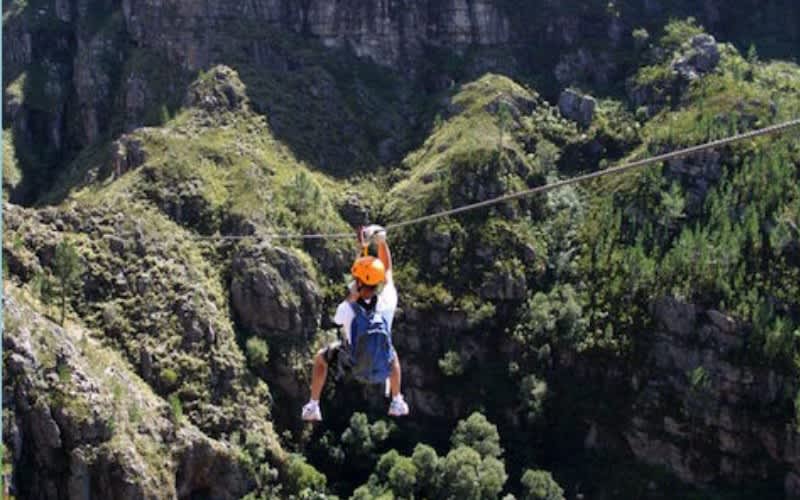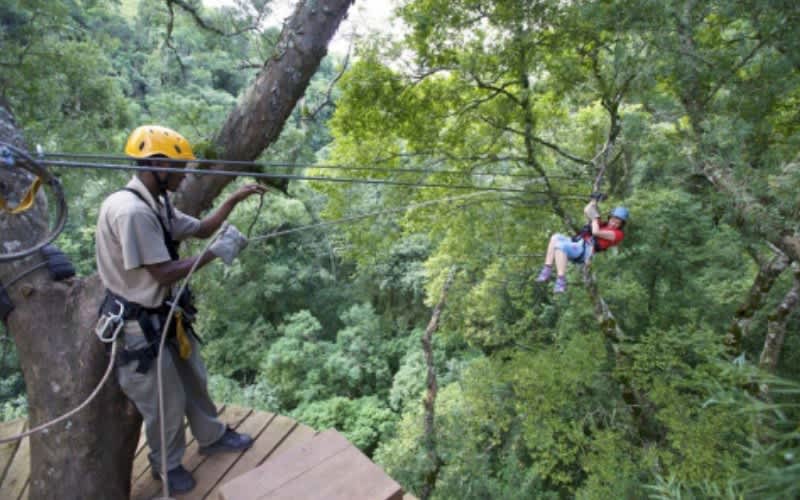 ZIPLINE - Elgin Cape Canopy Tour Package now R995 pp! Includes Lunch + Personalized Video!
2nd Best experience in Africa - TripAdvisor 2020
Thrilled zipliners who have completed the course have described it as super safe. One commented that the quality of the structure and equipment was reassuringly high and had made her fear of heights irrelevant.

Cape Canopy Tour

Soar in the company of soaring eagles, surrounded by breath-taking Cape fynbos panoramas and mountainscapes only an hour's drive from Cape Town
Lonely Planet recently listed Cape Canopy Tour, located in the Elgin Valley near Grabouw and scaling the rugged Hottentots Holland mountains in the Cape Nature reserve of the same name, as second on the list of the world's hottest new tourism experiences for 2015. Situated in the Hottentots Holland Nature Reserve, we have partnered with CapeNature to take you into a previously inaccessible and pristine part of this amazing World Heritage Site. Only one hour from Cape Town, we offer a fully guided adventure activity for nature enthusiasts of ages 5 to 75!

INCLUDES- Lunch, and a Personalized Video
The tour consists of eleven thrilling slides, some over 300 m long, each ending on a platform constructed on the cliffs and fynbos covered mountain slopes above the Riviersonderend Gorge. A unique suspension bridge constructed between a narrow sandstone ravine above a spectacular double
waterfall is guaranteed to be one of the unforgettable highlights of the tour. Cape Canopy Tour is a fully guided nature experience with a strong emphasis on client comfort and safety Two trained guides will accompany each group on the 4 5 hour tour They will provide information about the endemic fynbos and geology of this unique World Heritage Site
Things to bring along: Warm clothes
weather in the Cape can be unpredictable, especially up in the mountains. If it's warm, sunblock and a hat are advised. Comfortable shoes and clothes. Rain gear will be provided in wet weather.
Need to know


Weight restrictions:
Our cables are designed to hold several tons, however, in order to safely enjoy the tour, we require our clients to be able to fit comfortably into a full body safety harness, with a weight limit of 120kg.
Please note that if you weigh over 120kg, but you're fit and in good shape, it is likely that your body shape will fit comfortably in the harness with no problems at all.
Ff there are any small children or guests requiring a tandem, please to advise the office in advance.
Pregnancy:
We regret, that participating in the Cape Canopy Tour experience is not permitted when pregnant.

Fitness required:

Canopy Tour is an adventure activity, and we recommend a reasonable level of fitness. You will need to hike for 1km up and out of the mountain after the tour.
Code / PLU:
Canopytour2021
The deal is redeemable until end October 2021!
For Bookings please email:

[email protected]

Please quote your Flook coupon code when making your booking in order to qualify for this rate
You must produce your coupon code at the venue to avoid normal fees
Subject to available times
Please contact us if you do not receive your order confirmation code
Restrictions:
If you have any medical conditions, and are unsure, please contact your doctor before the time
Clients are advised that the tour includes a 1km hike out afterwards and a bumpy 4x4 trip to the top of the mountain and back
Moms to be: We apologize – due to the bumpy 4x4 ride, this tour is not for you while you are pregnant
We suggest a weight restriction per person of approximately 120kg to 130kg – this restriction is not weight related, but rather imposed by the size of the harnesses we use and is based on the circumference of the straps around the body
Operating Times: 364 days a year (we are only closed on 25 Dec)
Tours run every hour on the hour with the first tour leaving at 10:00 and the last tour at 14:00
Cancellation Policy:
A 100% refund will be granted should Client / Operator cancel or amend the booking 48 hours prior to the activity date booked
No refund will be applicable should the Client / Operator fail to arrive on the date of the activity booked